Having avoided Barcelona for years, I decided it was high time that we visited the city everyone raves about. It hadn't been a conscious effort to stay away from the place, more a case of never getting around to it.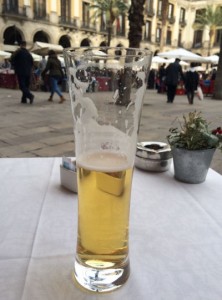 A big birthday for Dick prompted a surprise visit on 31st December. It was difficult to keep the secret while he was packing gloves, umbrella and scarf, and hard to keep a straight face when an old Cambridge university friend of his tweeted "If you happen to find yourself in Barcelona then give me a call."
The gloves and scarf were definitely not needed as it was up to 18 degrees most days. For a Scot that is a decent summer's day.
My first impressions of the city were how big it seemed and how spectacular the architecture is – not just the obvious Gaudi fairytale buildings, but all of it, even (and maybe especially) the modern stuff. This is where a city usually lets itself down, but not Barcelona. An eclectic mix certainly but somehow it all worked beautifully. The interiors were also very stylish and, as far as I could tell, from the umpteen that I visited, the loos were the best I have seen in any city. The people, on the other hand, were not elegant at all. The city of the trainers as we called it. Perhaps I have spent too long in Paris where everyone is ultra smart and very fashionable – apart from the tourists. Parisians can be a bit avant garde, but always well groomed. Barcelona is not like that (neither is Edinburgh), and dowdy clothes or garishly unattractive outfits were the order of the day. Bright orange trainers were very popular. And dare I say it, when my own diet is failing miserably, many were overweight. To be honest I may be describing the visitors, not the locals.
The overweight bit doesn't surprise me as there is food everywhere, all on display to make your gastric juices flow. Not raw product but cooked dishes in garlic, herbs, spices – I am salivating just thinking of it. They don't hide their food away until you order. Oh no, it's displayed in all its mouthwatering glory everywhere you go. You can't escape its sights and smells, and in Barcelona it appears normal to eat all day long, or certainly at any time of day.
As for the famous Antoni Gaudi and his creations – parks, buildings, interiors – all I can say is wow wow wow! I had seen pictures of his most famous creation La Sagrada Familia but nothing prepared me for the immense scale of this half finished building. Love it or hate it, you can't feel nothing, it takes your breath away. It is spectacular and I am so glad to hear that it may be completed in my lifetime. Gaudi's fantastical architecture, which is all over the city, is like something out of Lord of the Rings, science fiction comics, Conan the Barbarian or childhood fairy stories – or a mix of them all.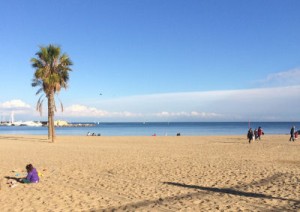 I loved Barcelona. We were lucky enough to stay in a gorgeous 5 star hotel, the Majestic, in the Eixample district of the city (I still don't know how that is pronounced), and had six days of sheer enjoyment. Even the beach was fab, and normally I don't like city beaches. Yes, we did meet up with Dick's old uni friend and his wife while we were there, and enjoyed a delicious tapas lunch of about 16 plates of food with them, in a very old, but apparently very trendy, part of the city called Born.
I will go to Barcelona and Born again.