"My destiny was down there – a clutch of shattered bones spilling down the mountainside. I was no longer breathing. I was drowning in my own fear."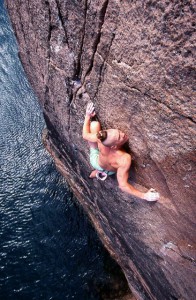 Jules Lines, Britain's most accomplished free solo climber, has written his first book, Tears of the Dawn, in which he recounts climbing adventures and misadventures all around the world, from early achievements – completing all 277 Munros (1987) whilst still at school – to the most ultimate and extreme challenges which the world's precipices have to offer.
Solo climbing without ropes, and sometimes miles from any other human being, is not for the fainthearted, but whether you are interested in climbing or not, the sheer determination, guts and tenacity of Jules, combined with eloquent prose, a sense of humour and a poignant glimpse into his psyche, make this book a great read.
His anecdotes reveal the courage and passion required for someone to gamble with his own mortality while listening to the voice in his head which tells him not to do it, until the point of no return makes it a question of survival. His addiction to adrenaline has seen Jules stare certain death in the face on many occasions and the reader shares his heart-stopping panics. It is a white knuckle read.
Obsession with hardship, adrenaline and danger finds Jules in a number of scrapes, on occasion naked, and sometimes at the edge of insanity.
The book is available from www.shelterstone.co.uk for £23 GBP (plus £3 for Europe or plus £6 for rest of world).
Further information:
Rosemary Walker
Playfair Walker
Tel: 0131 445 5570
or 0044 131 445 5570